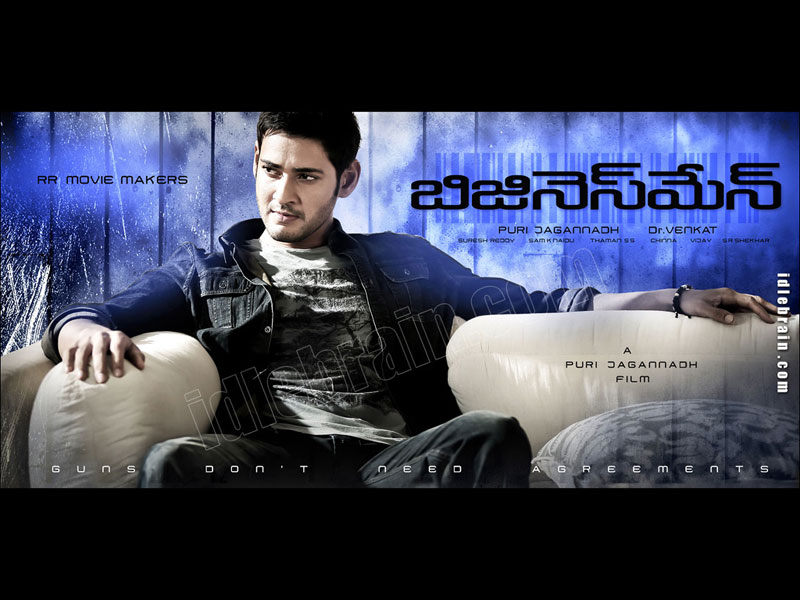 Movie:Businessman(Telugu).
Release Date:13-1-2012.
Watched At: Susheel 70MM.
Show timing:8:00 AM.
Cast:Mahesh Babu,Kajal,Prakash raj,Sayaji Shinde..
Banner: R.R.Movie Makers.
Music Director: Thaman.
Direction-Screenplay-Dialogue: Puri Jagannath.
My Rating:2/5.
Story:  Surya(Mahesh Babu) Goes From Hyderabad To Mumbai To To Make An Impact As A Don.He Starts Off  As A Small Don And Grows Big In Ample Of time.he The Meets Kajal Who Is A Painter And Daughter Of Dcp Nazar.here Comes Some Scenes Between Mahesh Babu And Kajal.
MeanWhile Cheif Minister Of Andhrapradesh Prakash Raj Involves In Lots Of Scams And Frauds.Targeting Him On This Issues Sayaji Shinde Plans To Grab The CM Seat.For This he Seeks The Help Of Surya(Mahesh Babu) Who Is A Kingpin.Then rest of The Story Is
Whether He Cloud Able To Tackle Prakash Raj?
Why Sayaji Shinde Took The Help Of Surya?
And Did Surya Actually Love the Kajal?

Analysis:
Direction And Dialogue:
In Puri Jagannath Films Dialogue Plays The Significant role And The same Applies for This Film Also.But In This Film The Dose Of  Dialogue To Present the hero Character Is Full Of Foul Language.One Cloud Able To Easily get with The Lip Sync And Utter The Word Easily.In Simple,"Banda Boothulu" Unnayi Cinemala.
Another Important Thing Is Puri Jagannath Tries Hard To Come Out Of Pokiri Mania.But He Fails At Some Places.Especially In Pre-Interval Scenes.
Election Episode In The Second Half Is Good And The Dialogues In This episode Are Top class.
It Is The Time For him to Make Some Different Films And Try In Another Genre.He Became Predictable. 
Mahesh Babu:
This Movies Is Made Only for Mahesh babu. Through t the Film You could Hardly Find scenes without Him.He Continues The"Mukku Chedudu" Mannersim From Pokiri.He Does well in Action Sequences.
But Nothing New From Mahesh Babu.
Dances By Mahesh Babu Are Laughable.

Kajal As Usually Irritates With Regular Action But Has Something…

"No Brahmanandam,M.S Narayana This Time To Save Mahesh Babu's Film".
Music:
Thaman Who Is On High These Days Tries Something Differnt for This film.
"Sir Ostharu.." Song Is Already A Hit Among People.
Other Departments:
Shyam Naidu who Looks After The Camera For Puri films Does Well And He Shot The Songs very Well.
Fights By Ram-Laxman(not Sure)Are Good.
Final Verdict:
The Run Of This Film Depends On The Fate Of Body Guard.The Main Backdrop for This Film Is Explicit Content Due To Which It loses Family Audiences.
But Due To Its Grand Release It Hits The First Day Records Very Well.
Strictly Average Film With 3- 4 Weeks Run.
(Note:Commenting on some one's creation is not recommended..But in case of films it is recommended because it is  mere a product and we are the consumers..So we have the liberty to comment it and such is this one.)