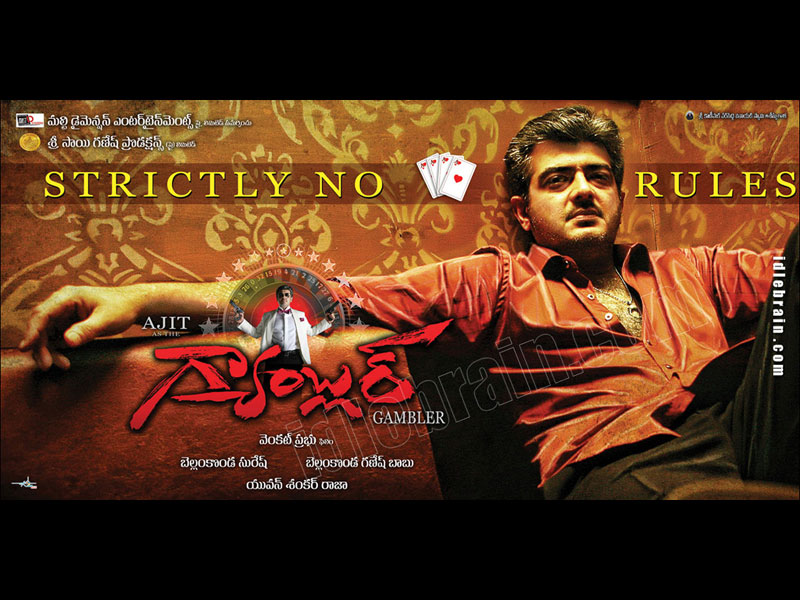 Movie: Gambler(Telugu Dubbed Version Of "Mankatha"Tamil).
Cast: "Thala"Ajith,Arjun,Vaibhav,Trisha,Lakshmi Rai,Premji Amaren…
Director: Venkat Prabhu
Genre:  Action,Thriller,Comedy.
Watched At: Sunil,10:00pm,9/9/2011.
My Rating: 4/5.
Story And What's The Film Is All About :
ACP Vinayak Mahadev(Thala Ajith) A Over Desired ,Greedy,Self Contentious,prehensile And Much More Ill Minded  But Well Styled Get Suspended For 6 Months For Helping In The Eviction of a Bookie.He Gets Closer To A Betting Kingpin Reddy Gaaru Through  His Daughter "Trisha".Reddy Gaaru Plans For  Major Betting Event In His Club Of Worth 500 Crore,Which Has The Stakes Of Famous Politicians,Celebrities.TheClose Associates Of Reddy Gaaru  Suman(vaibhav),Sp Rajesh Kumar,Mahat And IIT Gradute Prem Plans To The Steal That Money From The Boss Itself.Later Vinayak Threats Them And Join With Them To Steal.
Mean While Betting business  and illegal money laundering  become rampant in india, pressures from the betting business people leads to the death of a Police.This Leads for The Establishment of Special Police Team To Tackle Betting Headed By Prudhvi raj(Arjun).This Police Team Plans For The Raid On The Club Of Reddy Gaaru And Plans To Get Hold Of  500 Crore Black Money.
And The Remaining Story Is All About
How The Team OF Ajith Steal The Money And Whether They Could Able To Get Equal Share Of The Money?
Whether The Police Get To The scene And Capture The Money Or Not?
Finally,What Led Ajith To Steal The Money And Help The Bookie In Eviction Without The Concern For His Job?
Analysis:-
 Ajith:
 Ajith Simply followed The Style And Attitude Of George Clooney From Oceans' Eleven Which Suits Him Very Well.Since This Is His 50th Film He Took Much Care In His Looks And Styling .Though The Character is Not A positive One Kudos To Him For Selecting Such Character For His Land Mark Film And Excelling In It The Core.
His Expressions And Body Language Are Super And Can Be Remembered For A Long Time.In The Pre-Interval Scene He Simply Rocked With His Narration In How To Tackle The Situation In Distributing The money. 
The Whole Second Half Credit Belongs To Ajith.His Action Reminded Me Of Al Pacino in Scarface .Though The Climax Is Predictable His Dialogues And face Expressions Makes The Scenes Intense And Drags The Attention.

NO Complaints.Truly Fascinating Performance From  Ajith .All Accolades Goes To  Thala Ajith.
Direction and Screenplay:
Venkat Prabhu is One Of The Few Directors I Like The Most.His Films Are Simple with no Much Dragging Scenes And Lengthy Dialogues.His Comic Touch I Almost Very Scenes In This Movie Is Super ,But In Some Scenes It Lacks The Freshness.
He Publicized This Film As"Venkat Prabhu's Game".Really This Is Film IS Game But The Film Of This Genre Are Old In Hollywood.But What Makes This Different Is The Humor In The Serious Scenes And Some Good Action.
Music And Other Departments:
The Back Ground Music By Yuvan Is Good But I Some Scenes It Is Loud.Especially The Slow Paced  Violin BGM When Ajith Hits The People is Truly Intelligent It Marks and Brings The Feel The Legacy And Royale Which Truly Depicts The Protagonist.
Cinematography By Shakti Is Good.Art By Saboo Cyril Makes Mark In One OF The Songs With Trisha.

Comedy By Prem Ji  Amaren Is Asusual  Good As His Previous Films.He Makes The Spoof Of Tamil Heros' Very Good.
FINAL VERDICT:Watch It Though You Have Watched Lot Of Such Films.Sense Of Some Difference Is Present In this Film And That Is Simply Ajith.
(Note:Commenting on some one's creation is not recommended..But in case of films it is recommended because it is  mere a product and we are the consumers..So we have the liberty to comment it and such is this one.)